Reviewed by: Between the Frames

As regards theology, the word "atonement" is often separated into its parts — at-one-ment — in order to demonstrate that the concept means to become united (which is "at one") with God. The word also refers to the forgiving or pardoning of sin through the death by crucifixion of Jesus Christ which made possible the reconciliation between God and creation. The doctrine concerns the reconciliation of God and humankind, especially as accomplished through the life, suffering, and death of Christ. But this handy wordplay oversimplifies the mystical concept of atonement by focusing on the outcome rather than the process of becoming whole again. It trivializes the oft-painful relationship between transgression and the search for solace, and overlooks the transgressor's role in trying to make amends for an injury that may be beyond repair.

In the film "Atonement", a masterly rendering of Ian McEwan's novel, 13-year-old Briony Tallis (Saoirse Ronan), who desperately wants to become a writer, happens to see a series of events between her older sister Cecilia (Keira Knightley) and Robbie Turner (James McAvoy), a man on whom Briony has an adolescent crush. Motivated by jealousy, confusion, and an overzealous imagination, she accuses Robbie of rape. Once an aspiring doctor, Robbie is sent to prison and from there to the front lines of World War II; Cecilia leaves home; Briony abandons her opportunity for college to become a nurse; and both families are irreparably shattered.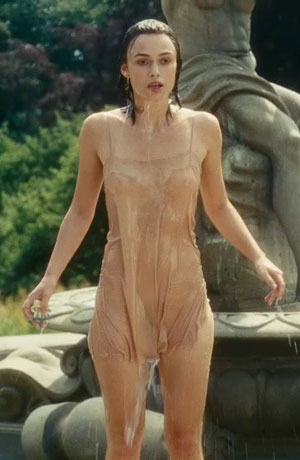 "Atonement" is a subtle book, but it doesn't lend itself easily to cinematic adaptation. Screenwriter Christopher Hampton manages, however, to bend this recalcitrant novel into movie-form in an elegant fashion which preserves the novel's quirks. One of the central motifs of the novel is the relationship between author and story. This works primarily on three levels: McEwan as an author of literary fiction, Briony as an author of literary fiction and Briony as an author of real-life fictions. This meta-literary tension, which is palpable throughout the novel, asks some serious implicit and explicit questions about fiction and its purpose. The book seems violently ambiguous about the whole fiction-writing enterprise. Briony is the most sinister 13-year-old character we've ever encountered, and it's all because of her writerly tendencies. She's determined to shape events and interpret them, while all the while remaining eerily detached from her circumstances.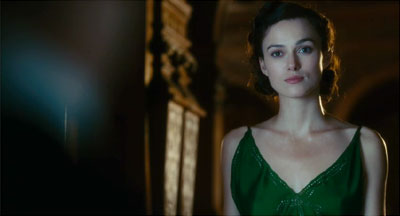 In essence, McEwan is paying tribute to the power of words, a theme which Hampton's script translates to the screen with a faithful intelligence, with a minimum of words for a maximum effect, wholeheartedly exploiting the standard lover's lexicon of desire. Words don't express all of it. The screenplay further explores the boundaries between truth and falsehood, guilt and repentance, in scenes that combine a rarefied intimacy with passages of epic power and grandeur. Like McEwan, Wright utilizes several stylistic techniques in the film including metafiction, which is unprofessionally and unfairly mistaken, by some critics, with the nonlinear narrative structure in "Memento". As a result, the meta-literary plot is transcribed visually through repetition, a warping of time and even rewinding.

In a further inspired touch, Dario Marianelli employs the percussive clack of a manual typewriter as a rhythm instrument, reflecting both a central character's writerly impulses and the urgent push of McEwan's narrative. In keeping with the film's theme of storytelling, Wright suggested incorporating the sounds of a typewriter. The first sound we hear is the tap, tap, tap of a typewriter, a sonic motif that will be incorporated into Dario Marianelli's lush, romantic, yet haunting score, as 13-year-old Briony Tallis puts the finishing touches on her first play. The typewriter is a recurrent motif in which a 1935 misunderstanding by Briony has a tragic effect on the future lives of those around her. To that end, the clacking of keys and the thumping of carriage returns even pop up in the score, as an important theme in the imagination of a writer. To mark moments of thought and emotion that occurs onscreen, the urgent rhythm of its tapping is even echoed in the score. The sound design is exceptional, with a staccato typewriter motif that underscores the central idea that the actions taken from words - whether truthful, mistaken or otherwise - are what drive the characters into their various dilemmas. To have a typewriter as part of the percussion section, clearly reflects Briony's occupation as a novelist, and to underline the point that literary fantasy is a key plot element in the film. The percussive clatter of the keys initiates and underpins the central theme for Briony, which is heard in the opening cue "Briony", and in later tracks such as "Two Figures by a Fountain", "With My Own Eyes", the more urgent and dramatic "Cee, You and Tea", and the surprising "Come Back" which, amongst other things, also features a performance of the wartime standard 'The White Cliffs of Dover', and a church organ solo.

Marionelli incorporates the story into his music in imaginative ways. As the film opens he turns Briony's typewriter into a percussive instrument, returning to its motif throughout the film. When a distraught Mrs. Turner (Brenda Blethyn) pounds on the police car that is taking her son Robbie to jail, Marionelli uses her pounding to form the driving rhythm of the music. During one orchestral passage a harmonica is highlighted, just before we see a soldier in the distance, playing the harmonica. In another, a piano key is struck repeatedly, ending with a "plunk" as a petulant Briony pulls the string of the family piano. Each intrusion is an unexpected delight, drawing attention to the music without distracting from the film.

The piano theme is elegiac and melancholy, and the cello and violins also add to the sadness of the romance. Once again, the use of a typewriter as an instrument soon becomes infectious and it even forces its way into viewer's minds, making Robbie's note and the consequences unforgettable. The vivacious piano line and prancing string work gives the theme energy and a sense of wit and sprightliness which is quite delightful. Seldom have I been so aware of a score — in a positive way — since Gustavo Santaolalla's Brokeback Mountain.

As a nurse, Briony seems determined to atone for her sin of false witness by caring for the wounded soldiers who are shipped back to London. Their shattered bodies stand in for the lives she has shattered. Accompanied by music the typewriter motif begins to sound like bullets, in a metaphorical manner, communicating that words are weapons that can wound and even kill. The ending is a powerful statement about atonement — reparation, making amends, seeking wholeness and at-one-ment when the injured party has been broken beyond repair.


The acting in this film is unexpectedly well calibrated, the way one expects actors to perform in a British period film. All the performances are flawless. McAvoy, a more mature and confident presence since "The Last King of Scotland", shines as the ill-fated Robbie as he puts admirable depth into the sweet-sad-angry-flirty character of Robbie Turner and adds a great deal of charisma. Knightley, managing to rein in her pout as the bereft Cecilia, attains a marvelous serenity and poise and delivers a performance marked by heretofore unknown levels of dramatic maturity.
As Robbie's mother, Brenda Blethyn is deeply affecting in her two quiet scenes with her son, and the supporting cast, including Benedict Cumberbatch as a cocky industrialist and family friend, are all we would expect in a film as intelligent and meticulously crafted as this.


Young Briony in particular is portrayed with wonderful subtlety, and Ronan manages to steal the first half of the film as she plays the 13-year-old Briony with great depth and self possession. Her vivid blue eyes, which often stare unabashedly into the camera, are flat-out haunting. Grown-up Briony, played by Romola Garai, excels as the tragic and deeply flawed 18 year old Briony. She has a gift at conveying deep emotions with just the smallest facial movements and she is an actress that is already being talked about as a future great. Because of her performance, the second half of the film is incredibly evocative. One scene in particular stood out: a short talk between Briony who is a nurse during the war and a dying French soldier. The moment is so tastefully and quietly done that it elicits tears before you know what's going on. "No matter how hard I work I can't make up for what I did." About the same time that we hear these words we see a pair of hands being vigorously scrubbed as if trying to remove some deep stain. Grown-up Briony has been trying to undo a terrible event she caused five years earlier. Her mistake, whether malicious or not, ruined two promising lives. How can she ever make amends for the pain and suffering she brought about?

The most moving performance is Vanessa Redgrave's as she delivers a knockout performance that seems to have come from deep within her own regrets over past transgressions. The climax of the film which requires an elderly Briony to deliver a lengthy 15 minute speech is done interspersed with some stunning beautiful imagery of what a happy ever after ending should be. And this is the way movie magic is made. In the film's final moments, Redgrave plays Briony in old age and during a television interview about her career as a writer gives us a shattering insight into her feelings. Only now do we grasp the depth and richness of the story and the implications of McEwan's narrative. There is no end to the guilt that has defined her life, at least as long as she has her memory. Only at the very end is there a hint of mercy coming into her life, and even that is a very hard mercy. Thus we learn that her sin in the beginning not only ruined the lives of Robbie and Cecilia, but her own life as well. Briony, like us, learns that that no matter how much we do, or how hard we scrub, or how we try to make things right, we will always come up short. But that is the cost we pay to find the true meaning of grace that in the end gives us mercy.

In very few films are acting, writing, direction and sheer visual impact fused with such success in the service of a unifying artistic vision. Oscar winner Christopher Hampton's script combined with Wright's direction result in a mischievous yet meticulous produced film as it exceeded expectations and managed to translate most of the dark beauty of McEwan's work while adding some beauty of its own. Sumptuously produced and smartly acted, it grips from the opening moments. The play between imagination and reality works well. As the film remains a thought-provoking and satisfying romantic drama dripping with cinematic inventiveness and deft narrative touches. Flawlessly and elegantly executed, "Atonement", save "No Country for Old Men", is the film of the year: a profound and moving work of art, heartbreakingly sad, consummately acted and ceaselessly beautiful to watch. It is the measure of Wright's achievement that "Atonement", for all its echoes of other people's glories, is a strikingly original and a wonderfully daring film. It remains a film of brilliant parts, one that you'll find yourself thinking about days later.


http://www.movieseer.com/ReviewsBil.asp?rID=687&moID=6329&Channel=2